It's very near impossible to be productive inside when Scotland is offering you sunshine on the outside.
I should be slaving away at my desk all day but it would be rude of me not to step outdoors and briefly except Mother Nature's rare gift.
Having "lived" in Edinburgh for almost two weeks now, I like to think my progress in meeting new people is on, if not ahead of track (thanks to the local's awesomeness). The introduction however, is always the same and consists of me trying to avoid the two inevitable questions. "Have you been up Arthur's Seat yet?" and "what did you think of the castle?" No. I have not been. My reply is always followed with something along the lines of "…and you've been here how long?"
So today seems like the perfect day to regain some dignity but both milestones demand the time that my laptop owns today. I look on Google maps for a park nearby my house, "Calton Hill? …that'll do."
[one_half]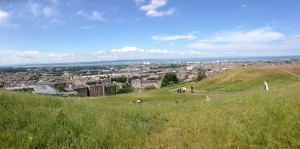 [/one_half_last]
"That'll do." turned out to be quite the understatement. Looking at the map I knew there would be a view and a monument. What I didn't realise was that view would be a stunning 360 degrees over every inch of this surprisingly sizeable city and there would be at least 5 monuments accompanied by other aesthetically pleasing constructions.
It is the perfect place for a picnic. You can choose which scene you like best out of ocean, city and nature, place yourself accordingly along the looped path and then sit back and begin your people-watching. An influx of accents and languages mesh together on this peak and it's not short of couple's photography sessions which can never fail to entertain.
At this point I'd already awarded Calton Hill with an A and on my way out, stumbled across the +. Collective. The free art gallery located next to the humble but quirky cafe MILK. Not many things in life top people-watching but, for me, contemporary art is one of them and this tiny but effective installation was enough to promise my return. Did I mention it was free?
Since then I have come to realise that Calton Hill is a lot more well known then I gave it credit for but in my opinion, it's for good reason. Some locals view the hill as a ho-hum event but as a tourist expecting nothing, it's more than something.
Steph Sugden