People often think about a typical 'gentleman' as being a man with old fashioned values who conducts himself in a certain way with respect, charm and class. A man who follows a certain style rule, who takes care of his image and seeks quality in service. The modern man has evolved over the years and as George Bernhard Shaw once said:
"A Gentleman is one who puts more into the world than he takes out".
In 2015, men often seek something unique in everything they do. When it comes to getting a haircut, you can book in with lots of chain salons that offer convenience but these tend to lack a special touch. The traditional view of barbers has now changed considerably and men respect a hairdressing salon that will offer them a unique service and style. The finer details mean a lot to people as they see everything and respect high quality.
London trained stylists Garry and Heather are always following the latest trends in hairdressing and Garry jumped at the chance to visit Schorem Barbers in Rotterdam last month. The word 'Schorem' is Dutch slang, which actually translates as 'scumbag' and was chosen to capture the gritty reality of combining old school men's barbering with the cultured man of today who enjoys a beer, a laugh and cool music. The tense form of the word also means 'I shaved him'. The bad boy image does well to attract the cool guys off the streets who know how to look good and display a sense of style and character.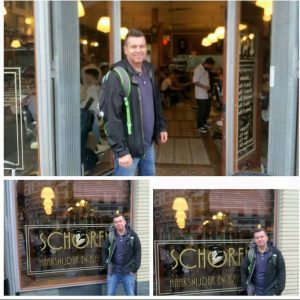 Their style throws together the old 'Rockabilly' music influence of the 50's with a no nonsense approach to barbering. Men like things simple and they keep it that way with their 22 haircuts on offer. Their success is down to the fact that they have created a salon that reflects their own style and values. They've done things their way, with values that are important to them and played the music they love, which has attracted like-minded clients. Their popularity reflects the influence of a rock and roll band, that don't play the hits just to suit the audience but just because they love it so much.
Garry is excited to be offering these unique cuts to men in Edinburgh. McGill's salon is at Tollcross and you can book by calling 0131 228 8882.
Jon Exton