August 5-7, 2016 has been a real blast for Edinburgh-based gastronomes and passionate eaters thanks to the 11th edition of the exciting Foodies Festival, which happened in Inverleith Park, right beside the notorious Royal Botanic Garden.
The event brought over 200 hundred different types of food, presented by a huge variety of independent organic food producers, international restaurateurs and street food experts. Among the incredible selection of products that could be found and sampled during the event, there were locally made craft beers, ciders, wines, jams, cheeses, sausages, sweets and Scottish traditional foods.
This eclectic festival gave the chance to visitors to meet their favourite Michelin Star chefs, thanks to compelling cooking sessions hold by them in person, where they revealed every single secret behind some of their most loved recipes. Such unique shows were taking place in three different areas: the Chefs Theatre, Cake & Bake Theatre, followed by the Childrens Cookery Theatre, for a younger audience with a precocious passion towards food.
Charming sommeliers were also running sessions in the Drinks Theatre, where they explained in detail all the mysteries existing around the world's most legendary wines and teaching the public how to properly taste and appreciate numerous sorts of alcohol, ranging from beer or tea to champagne.
Friday August 5th afternoon was a particularly interesting moment of the Foodies Festival, since three among the most engaging shows organised on that weekend took place, respectively in the Drinks Theatre, Cake & Bake Theatre and Chefs Theatre.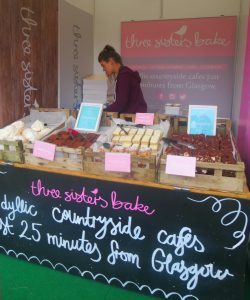 Wine expert and writer Brian Elliot held an entertaining talk called "The fascinating story of Champagne Canard-Duchene" where three exquisite varieties of authentic Champagnes have been served to the public for tasting, accompanied by meticulous descriptions of their story, origins, production process, as well as an explanation about how to effectively taste them, while considering every single flavour hidden in their individual fragrance. This 60-minute talk provided the public with the opportunity of carefully examining, through sampling experiences, three delicate French wines from the renowned Champagne area, which were: Cuvée Léonie, Cuvée Léonie Organic and Charles VII Blanc de Blancs.
Following this unique high quality Champagne tasting experience, talented baker and writer Charlotte White held the next captivating show "The Burlesque Baker" in the Cake & Bake Theatre. In only 40 minutes, she demonstrated her outstanding baking skills by preparing a three-layer chocolate cake, filled with a soft chocolate cream. The gorgeous-looking cake was finally covered by a thick layer of light blue-coloured sugar icing, which Charlotte was able to perfectly apply on the chocolate layers below and beautifully decorate the whole composition with edible glitters. The final result was unbelievable, especially considering that everything was freshly made live in front of the audience. Aside from being an extremely skilled baker, Charlotte White demonstrated to be also a fun entertainer, since her pleasant jokes made the whole show very amusing for both children and adults.
In conclusion of the day, a short 30-minute but fun show, held by the Three Sisters Bake, took place in the Chefs Theatre at 5pm. The Three Sisters Bake is an independent chain of eateries based in Glasgow and owned by three actual sisters who have in common a passion for cooking and baking. On stage there were only two of the three sisters, each of which cooked something different. One sister was preparing a delicious chocolate brownie (which the public had the chance of tasting at the end of the show), while the other sister was making a simple but fresh salad, with olives, feta, onions and watermelon, perfect for a warm day of summer or to enjoy during a barbeque.
Watching those fascinating shows definitely makes you want to start improving your cooking skills in order to be finally able to make such delightful dishes. If you are unsure about your baking or cooking skills, or if you would like to strengthen your knowledge about wines, you cannot miss this fantastic event next year, so make sure to buy your ticket for the Foodies Festival in advance!